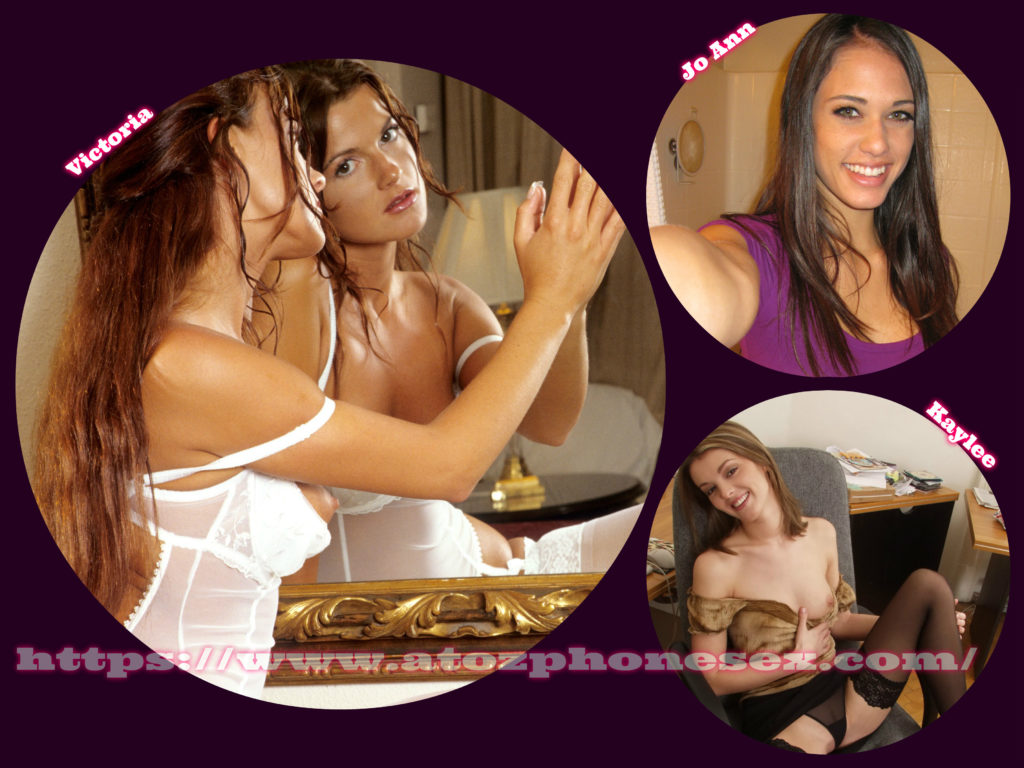 In Pretty Girl Pee Pee Phone Sex I ask my girlfriends Jo-Ann and Kaylee over to my house.  To have some cocktails and relax by the pool.  I tell them I want their help. Taking my submissive   sissy houseslave's toilet training to the next level.  They both jump at the chance, to inflict further humiliation on my beta bitch houseslave.  So far my subbie had only consumed my Golden Nectar. Savoring me 2- 3 times a day I might add.   I felt it was time for his taste buds to experience new Golden Showers.

When JoAnn and Kaylee knock on the door, my submissive slut answers it. Wearing only a locked chastity device, a pair of bright pink panties with "Slut" stitched on them – really there is no need for my friends to be offended by the sight of his worthless cock and a locked collar with "Property of Goddess Victoria" embroidered on it. Of course he is shaved from the neck down – something I insist in all my houseslaves.

I come out of the kitchen to greet them. They are both wearing adorable short sun dresses over their thong bikinis and 4″ stiletto sandals. I have on my lycra red thong bikini and 4″ red stiletto sandals. The bright red color of my sandals and my thong bikini matching the color of my pedicured toes. The key to my submissive and defeated bitch boi's chastity device hangs from a gold chain around my neck – the symbol of my ownership of him.

I command my inferior submissive slut to greet Mistress Kaylee and Mistress Jo-Ann properly. He immediately drops to his hands and knees and begins kissing their feet. They both look down at him and smile their approval of the proper way for an inferior male to greet a Superior female. I tell my pathetic excuse-of-a-man house boy that he is to obey Mistress Kaylee and Mistress Jo-Ann the same as he would obey me. We all hug and kiss each other and then Kaylee starts giggling uncontrollably.
When I ask her what that was about she says she got so excited knowing she was coming here to toilet train my submissive sissy slut that she drank a liter of water and now she has to pee really bad! "No worries," I reply, "That's what piss boy is here for. I order my subbie houseboy to lie down and I go to my "toy cabinet" and return with a funnel with a clear hose attached to it.
I tell Kaylee to straddle my slut's head and I hand her the funnel. I order my submissive whore to place the hose in his mouth. Kaylee stands over him, places the funnel underneath per cute teen pussy with one hand while the other hand moves her thong to the side and within a minute a small trickle of her Golden Wine begins to flow out of her fabulous pussy. She increases the stream and stops and starts to make sure my inferior bitch swallows every drop. "This is such a fucking power trip," Kaylee exclaims.

When Kaylee finishes with her Pretty Girl Pee Pee, l order my worthless disgusting houseboy to carefully and adoringly clean Mistress Kaylee's piss hole. As he does as ordered, Jo-Ann takes the funnel from Kaylee and giggles "This is so fucking hot. I've got to piss too." So I order my pathetic bitch to lie back down and Jo-Ann straddles his face, places the funnel under her adorable tight cunt and moves her thong out of the way. Soon the clear hose turns a slightly yellow color as Jo-Ann's liquid nectar flows into my pathetic piss boi's mouth. When Jo-Ann finishes I order my piss boi to clean Mistress Jo-Ann's now sopping wet pussy.
I order my inferior slut houseboy to bring us three glasses of Pinot Grigio and I lead them out to the pool. We each lie down in a comfortable chaise lounge and we discard our bikini tops to expose our tanned toned flawless bodies. When sissy boy returns with our wine, Kaylee begins wiggling her pretty manicured toes saying, "Piss boy, come worship my feet." My pathetic subbie looks at me and I nod my consent.

He sits at the foot of Kaylee's chaise lounge and slowly and carefully takes off her stiletto sandal. He takes her delicate foot in his hands and begins to kiss and lick her feet all over. It's just a delicious sight of submission. Soon he is sucking and licking and lapping at each individual toe. As my inferior Beta bitch boi worships Kaylee's toes, we completely ignore him and share some serious girl-talk conversation.

Reaching the bottom of my wine glass, I order my worthless houseboy to go and bring the bottle to the patio.  He returns and refreshes everyone's glass.  I order him to get the special pool chair.  It has a hole in the middle of it so my inferior pathetic piss bitch slave can crawl underneath it and consume Superior Female Golden Nectar.  He places it in the middle of us and I get up and order piss boy to get into his "toilet position".  He crawls under the chair and I stand up, take off my thong and sit down with my Perfect Fuck Hole inches from his mouth. 
I tell him to "Lock up my lips" and his mouth forms a tight seal around my Perfect Pussy Lips.  I let my precious Golden Wine flow into his eagerly awaiting mouth.  Marking him from the inside out. He obediently consumes every single drop.  After cleaning my Perfect Pussy he awaits my command and since I don't get up, he knows it's his signal to start worshipping my Perfect Vagina.

As he licks and sucks and worships my Perfect Pussy, Jo-Ann and Kaylee sit on either side of me and begin to fondle my perfect breasts and rub my nipples through their fingers. Jo-Ann leans in and we start making out as my pathetic submissive begins to suck and nibble my Perfect Clit. After a while I feel the familiar onset of an orgasm. As my well trained houseboy sucks my clitoris to perfection, I break off the kiss with Jo-Ann and scream out in ecstasy.

When I catch my breath, I ask who's next and Jo-Ann grins slips out of her thong, helps me off the chair and sits back down. "You know the command," I say and Jo-Ann says, "Lock up my lips." Once my pathetic piss boy has formed a seal around her gorgeous pussy, Jo-Ann begins to release her Golden Wine into his mouth. And again, he pathetically consumes every drop.
The little whore just loves being used as a human toilet. After her pussy is cleaned, Jo-Ann asks me if she can stay and get eaten out. "Of course," I say, and my pussy whipped whore gets to work on Jo-Ann's pussy. The scene basically repeats itself with Kaylee and I on either side of Jo-Ann fondling her breasts and pinching her nipples. Kaylee leans in and starts making out with Jo-Ann. Soon Jo-Ann breaks off the kiss with Kaylee and starts panting as my inferior submissive slut finds her clit and starts sucking on it.
She lets out a scream as she enjoys a wonderful orgasm. "My turn," Kaylee squeals as she ditches her thong and helps Jo-Ann up and sits down on the chair. "Lock up my lips," Kaylee says giggling. My emasculated piss boy's mouth forms a seal around Kaylee's sweet honey pot and she sighs as she begins to release her sweet Golden Nectar into his mouth. The nasty little bitch-slut swallows every single drop. After my pathetic piss boy cleans Kaylee's delicious pussy, I say, "Go ahead slut bring Mistress Kaylee to orgasm.

Jo-Ann and I get on either side of Kaylee and fondle her young perky breasts and pinch her nipples as my dirty little pussy addicted whore sucks and licks her sweet young puss puss.  I lean in and begin making out with Kaylee as she sighs her approval of my houseboy's effort.  In time, Kaylee breaks off my kiss as my pathetic slut sucks and nibbles her clit to a crashing orgasm. 
"Wow," exclaims Kaylee, "You have one well trained pussy boy there."
As we begin putting our thongs back on, my inferior broken beta bitch asks if he can go to the bathroom. We all look at him and burst out laughing. For his final humiliation of the afternoon, I order him to get up and go stand on the grass at the side of the pool. He obeys immediately and I say, "You may piss where you are. NOW!!"

His face is beet red and he looks ready to cry as his pink panties turn wet as he begins to pee.  Of course we are all laughing hysterically at him pointing at all the piss running down his legs.  When he finishes he stands there broken – in shame and humiliation – as we gather our sundresses and go into the house laughing our asses off. Are you ready to be turned into my pathetic submissive piss boy? 
Check out my site at : https://victoriaseroticstories.com/
Call me now! 1-888-295-4932