Little Dick Humiliation?
Need a bit of Little Dick Humiliation Phone Sex? I know some of you have tiny little cocks and love to be laughed at. You like to slip on sexy lacy panties (Some of you bought some of my panties and are wearing them right now). You love hearing about how pathetic your tiny sorry excuse for a dick is .
Cross dressing Little Dick Humiliation?
Crossdressing is a popular favorite with many of you.  Going beyond just the sexy panties. Putting on thigh highs, garter belts,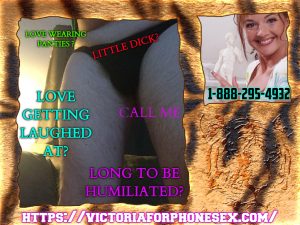 Bra's and heels. Applying makeup and even donning very well styled wigs. Even putting a sexy little dress . Or two piece skirt and top outfit or sexy costume to go with the lingerie.
You have a dirty secret to go along with your love of cross dressing little dick humiliation. You love having your tight little sissy fuck hole filled with my strapon (or your butt plug).
Filling your tight little man pussy with a strapon or butt plug 3-6 times the size of your dick . Which isn't hard lol when your cock is only an inch or two (and that's being generous).
Little Dick Humiliation  strapon play !
Sissy J begged for me to put his panties pic in my blog. J knows he is a pathetic looser with a tiny dick so small its not even a dick at all. Actually its more like a man clit *snickers.
When J pulls down his pants all the women laugh including me. He will do anything to get close to a woman's pussy. Sissy J will dress up in humiliating clothing . Wearing makeup and wigs. fucking his own ass with a butt plug! Having his ass filled with my strapon!
Laughing at your Little Dick Humiliation!
He loves to jerk it for me and my girlfriends on the phone like the pathetic cuck he is. That's if he can  even get his  dick up *snickers.  Tiny worthless dick no body wants to fuck.
What can someone like me even do with it? I would need a pair of tweezers for that tiny little shriveled up thing.  We love to prance him around all dressed up. Dressed in lingerie heels and a cheer leading uniform! Walking like a cross dressing faggot in front of my girlfriends!
extra mean during Little Dick Humiliation.
When J sent me his dick pick and begged me to post it on my twitter and my blog I called all my girlfriends.  I told him I try to keep my twitter clean but I would totally put it on my blog *giggles.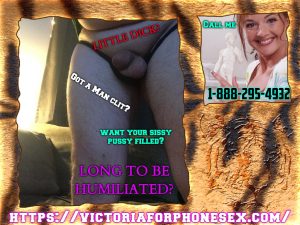 Joann, Mai, Kaylee, and Lynn laughed so hard when they saw how tiny his dick really was.
We have been laughing at him all night.  He begged me to put him in my blog. He wants everyone all my callers & my girlfriends to know how tiny useless and pathetic his little tiny sorry excuse for a penis really is.
I mean apart from the fact he is horribly woefully inadequate in the dick department … He will do anything to get me and my girlfriends to talk about him. He is so proud of this tiny little wiggling worm between his legs.
I bet he is reading this blog with his dick pic in it right now and fapping to the fact the entire world knows he is such a small dick looser. ( He wants me to let you know in real life he has a fat one when it gets nice and hard but loves humiliation phone sex.)
Loyal sissies love my Little Dick Humiliation.
J has been sharing his little dick with me since 2014. And I never get tired of laughing at how tiny it is over the phone. I know he is so excited reading this blog right now!
" *Ha ha* Bitch Boy!!! Rub your little man clitty for me like the sissy you are ! You small dick, pathetic ,tiny little pencil dick, worthless small
cocked  shrimp dick loser.  Your such a looser I had to blow up your picture to 300x just to tell that tiny little flesh colored thing was a penis. *Snickers!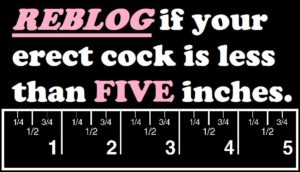 I know some of you can identify with J. Your little dicks are just throbbing and aching for me to humiliate you too. Some are bold enough to beg to be in my blogs. Others are  just small dick cross dressing faggot loosers  who beg for the verbal pain. But also major pussies, because you don't have the balls to let me post your picture. (no pun intended lol).
No Just kidding, Not everyone wants me to publish their nudes. (though some like J beg for the privilege) . There are levels of humiliation from a light to over the top. But if you beg me to be super mean of course I will (watch what you wish for! ).
I have a sweet sultry erotic side too. Not all me and J's calls are about  humiliation and cross dressing phone sex. Sometimes we enjoy mutual masturbation too.  I promise complete discretion when you call me (Unless you beg me to be the star of one of my blogs ).
Speaking of sweet side…. How about some free phone sex? Free phone sex how sweet is that? All my girlfriends and I are giving away free phone sex this month (and all year if you enter our free phone sex contest) Read this blog on our group website for more details.
https://atozphonesex.com/hot-new-after-easter-specials/phone-sex-specials/
Call me for more little dick humiliation phone sex!   1-888-295-4932