Are you a Foot Fetish Lover?
Slinking toward the bedroom I see you laying down in the bed. You are in nothing but your  black cotton briefs as I walk in. My perfect silky smooth
feet
making soft pats on the floor as I get up on the bed. Laying down beside you as I let my hands wander your eager body. I will indulge your naught
foot fetish
desires.  As your eyes flutter open you watch my hands slide down your  strong chest. Feeling me brush against you as your eyes gaze upon me.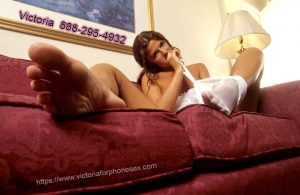 Are you ready for my sweet feet?
You see that I am wearing one of your favorites. My white sheer lacy
lingerie
barely hiding anything from the imagination as you linger on my smooth luscious long
legs
. I know you love it when I wear my soft sheer silky nude nylon
pantyhose
as the sheer fabric hugs my perfect tanned skin. Forever my
foot fetish lover
.
Hungry for more?
One of your hands reaches down to touch my upper sexy thigh. As you slowly make your way down my legs, your hands feel every inch of me. Slipping your fingers over me until your lips touch my thighs. Your hungry lips leaving kisses lightly as you brush them down my inner thighs. Kissing down as you slowly make your way to my soft feet.
Worship my feet!
I watch as you rub and kiss the tops of both of my sexy feet. Smelling them as you press them to your face and you start to worship my perfect feet and toes Licking and sucking my well manicured toes as you kiss my soft soles. Wrapping your hands around my thighs as you pull me towards you until I am sitting on the edge of the bed. Laying down on the bed I start to finger my tight asshole. Thrusting two fingers deep inside as you kiss me.
Indulge your foot fetish with me!
 While your mouth is busy worshiping me I reach one of my feet down and I start to rub them against your hard-on. Slowly rubbing the soft silky soles of my feet on your aching hard cock. Hooking my toes into the waistband of your briefs and pulling them down until your hard erection springs up for me. You're so hard for me already?
My toes tease you!
My tantalizing toes tease the head of your cock slowly, only to rub down your shaft. Your cock throbbing between my toes as I stroke you up and down between them. I can feel the first bead of precum as I play with you! Rubbing and grinding my foot on your cock. Then taking both of my perfect feet and lightly grinding you between my perfect arches as I slowly rub your balls with my smooth heels.
Seducing you with my pretty feet.
Jerking your dick with my pretty
feet
as your hungry mouth laps at my
pussy
. You start to thrust between them as your hands wrap around my
feet
. You love feeling my
nylons
on your cock as you fuck my
feet
, don't you? Your cock slides in and out feeling the nylon around you. Indulging in your
foot fetish
fantasies cum to real life and realized.
Now worship my pretty feet with your cock.
Call me for more  1-888-295-4932